Documentary Wedding Photographer | Edinburgh & Scotland
Are you just looking for a wedding photographer, a wedding photographer in Edinburgh or are you looking for a great wedding photographer who can make your day extra memorable wherever you are? Have you considered what your photographer can bring to your wedding day. Great wedding photographers don't just take photographs, we are there when you are getting ready, when you have those little cuddly intimate moments together and until you are spinning around on the dance floor in the evening. We have a split second to capture the moments which you will treasure for a lifetime.
We were so delighted with the photos! We knew we wanted Ali to do our photos as I had seen some of her work on a friend's Facebook pics of her wedding (Angela and Stuart had a gorgeous wedding up in the Highlands at a lochside hall).
She is great fun and really puts you at your ease. I love her photos because they are more natural than some wedding photoshoots I've seen. She is good fun and really professional to deal with, taking care of little details even after the wedding with her gorgeous presentation keepsake box for the pen drive!
- Lothian Chambers & the Whisky Rooms, Edinburgh
I want you to feel comfortable with me, I will give you guidance when you need it, I will capture your day to it's best with artistic natural photographs which capture the connections between you and your wedding guests. I will think about the little things which make your day better and make your memories last. I will help you create a beautiful piece of wall art that you can treasure or an album which can be a family heirloom for your grandchildren to look through.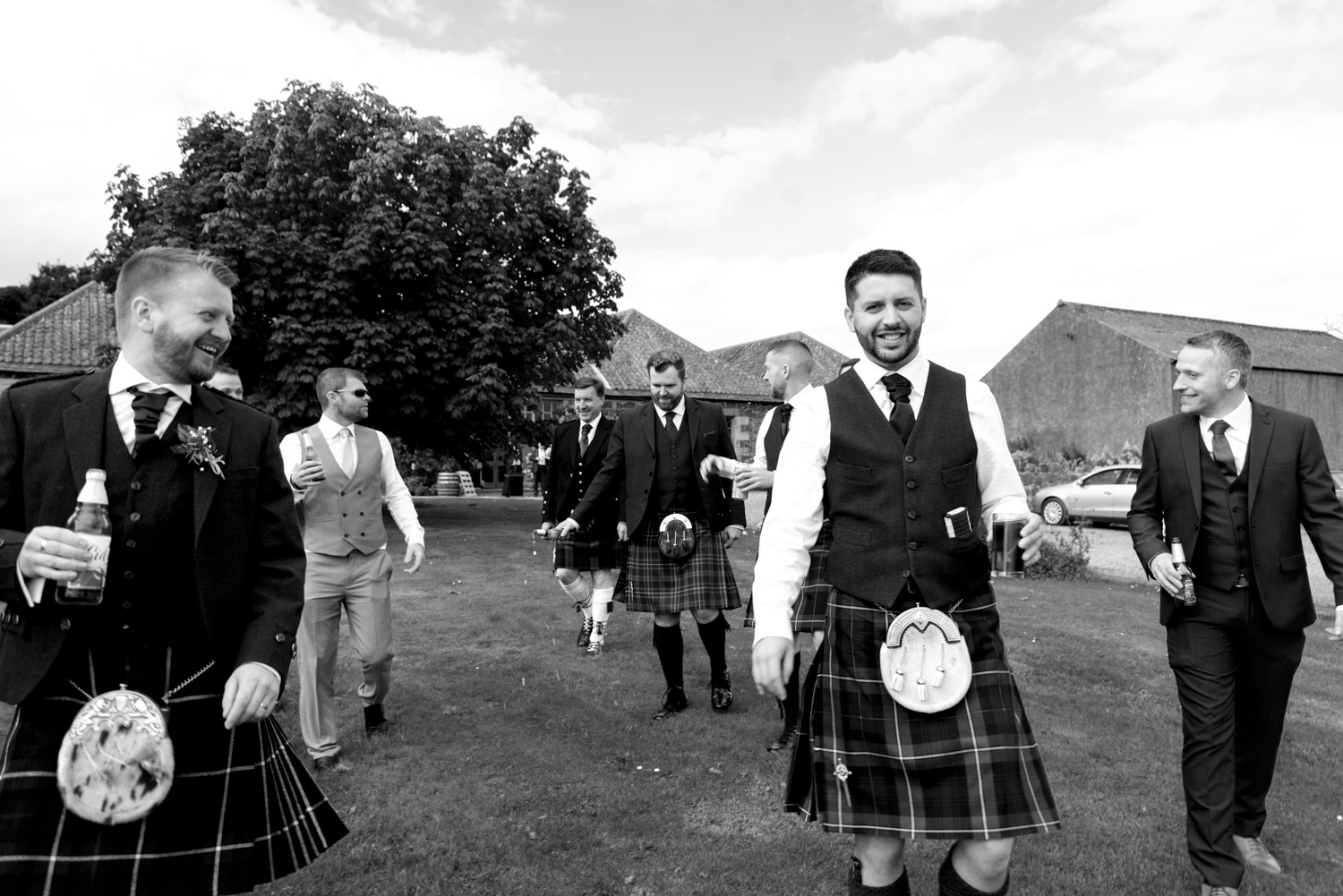 Most of my couples are! My natural documentary un-posed photography is so unobtrusive and relaxing. I will help you get stunning natural images and help you feel comfortable with me there.
I think it is great to meet up and have a chat about your day, I also love doing engagement shoots so you have some beautiful shots to share in a guest book or as a slideshow at your wedding or just do it as a fun practice before your day.
My clients have left many kind words so please scroll down and read their words as they can tell you what i'm like better than I can.
About my Wedding Packages
Let me know your plans below and I will create a package to suit your day. I cover weddings from 2 hours to 10 hours. I mostly work in the Edinburgh, Perth, Stirling, Falkirk, Fife and the Scottish Borders but I travel to the Trossachs, the Highlands and beyond, just tell me your plans ;-)
Short Weddings & Elopements
- 2+ hours coverage
- Online gallery
- Keepsake USB
- Optional album
From £400
Half Day Wedding
- 4-7 hours coverage
- Online gallery
- Keepsake USB
- Couple shoot (6 hours or more)
From £800
Full Day Wedding
- 8-10 hours coverage
- Online gallery
- Keepsake USB
- Photobook or Album
- Optional free engagement shoot
From £1400
5-Star Reviews - My clients tell their stories
This was our special day we had the most wonderful day we really loved every single moment! #bestdayever our photographer Ali Jay was amazing! I highly recommend her! She made us feel so relaxed and comfortable, her photos really told the story of our day and captured the emotion of everyone. We couldn't have asked for a better photographer. Thank you! X
- Pratis Farm, near Cupar, Fife
Ali was fantastic. Really listened to who we were and what we wanted. Very excitedly looking through photos now! Thanks Ali!
- Portobello Beach & the Ghillie Dhu, Edinburgh
What can I say! Ali Jay photography or Ali does amazing photos. We are super pleased with our wedding day photos and our ring making photos. Ali has a a gentile approach and has the patience to find the best candid moment and make it artistic and beautiful at the same time. Ali and I got on immediately from a random phone call after finding Ali on bark. It's important to get on with your wedding photographer as the photos work so much better if you are on friendly terms and you are totally at ease with your photographer and Ali managed to do both so genuinely and effortlessly. Ali became part of the family in such a short space of time, our guests on the day were so impressed how Ali was so personable and genuine in the execution of her art. Ali is also is a bit of a tease, because the next day after the wedding she released some fabulous samples of her work while we were on honeymoon, which meant we looked forward to the rest, but she kept on giving us more little tasters. Ali is adapting and will custom to your photographic needs, so if you want formal or candid pictures you will get only the very best talent for either or both. Thank you Ali, you really are a brilliant, artistic photographer and I want to come to your lessons when you start to teach photography and I have the time to learn!
- Duddingston, Edinburgh
We can't thank Ali enough we are so chuffed with our wedding photos of our special day.
Ali made everyone feel so at ease and captured wonderful natural pictures of us and our wedding guests.
Would highly recommend, 5 star service from 1st phone call to end receiving our wedding photos beautifully presented in a gorgeous little box. Thanks so much xx
- Leapark Hotel, Grangemouth
Ali did our wedding pics and we are so happy with them! We wanted natural shots with not to much fuss and that's what we got! Ali is a lovely girl & so down to earth which makes it so easy! Thank you very much & all the quirky little extras are much appreciated! X
- Pratis Farm, near Cupar, Fife
Thank you so much for the amazing photos they are perfect! Had an absolutely fab wedding day and it was great having Alison there to capture it!
- Orocco Pier, South Queensferry, Edinburgh
Can't thank Ali Jay Photography enough for capturing our very very special day. On such an intimate occasion (only 6 guests) we needed someone who would fit right in and make everyone feel at ease which Ali did so naturally. The beautiful photographs really captured the relaxed charm of our wonderful ceremony and afternoon tea afterwards! I can't recommend Ali Jay Photography highly enough, just wish we could do it all over again x
- Leith Registry Office and Portobello Beach House, Edinburgh
Ali is amazing, she takes on board what you want from your photographer and your day and she makes it work. Never work with animals or small children and Ali says No problem. She captures the feeling of the day. The story her photos tell are fantastic. Gordon and I were so lucky to have Ali Jay photograph our day.
- Balbirnie House, Glenrothes, Fife
Love our wedding photos. Ali captured the day brilliantly from beginning to end x
- Huntington Tower Hotel, Perth
Find out more or reserve your date today?